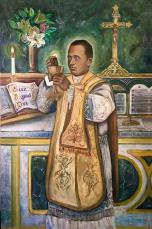 Father Augustine Tolton – or Good Father Gus, as many knew him – was the first black Catholic priest in the United States. Currently , he is on track to be canonized a saint in the Roman Catholic Church. Born into slavery in Brush Creek, Missouri, young Tolton spent formative years in Quincy , Illinois, where he later ministered as a priest. This project memorializes Father Tolton with a series of granite plaques, depicting scenes from his short but full life.
The life of Venerable Father Augustine Tolton holds a special place in the hearts of St. Peter Parishioners. To this day, his compassion and good will toward all people, no matter what race, continues to be an example for all of us. In his spirit of generous giving, we have installed this memorial wall, reflecting our love for this former parishioner, as well as a reflection of how we are to treat each other with Christ-like love. St. Peter Parish acknowledges and thanks many of our generous parishioners for their role in making this memorial wall a reality:
• Fr. Roy Bauer, former pastor, who was such an advocate for Fr. Gus.
• Monsignor Leo Enlow, whose vision it was to cast a permanent legacy of Father Tolton, setting the project in motion.
• Tim Haubrich, P.A.M. Printers, the artist behind each of these plaques.
• Marc Arntzen, Gem City Memorials, for engraving and installing the plaques.
• John Rupp, Rupp Masonry, for moving the statue to its place of honor near this memorial wall.
• Girl Scout Troop 5095 who installed the new landscaping for this statue.
• The many other parishioners who have generously given to support this memorial wall.
Perhaps this memorial wall is our thanksgiving to God for this man who is on his way to sainthood, and in the words of his favorite song, we say to our God, "Holy God we praise thy name."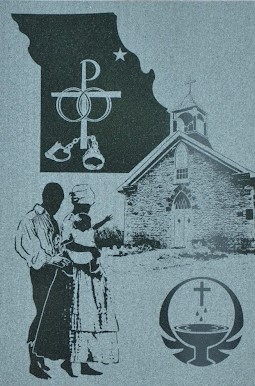 Origins

Born Augustus John Tolton in Brush Creek, Missouri, on April 1, 1854. He was baptized Augustine in the same church where his mother and father married.

Images
Missouri, a slave state
St. Peter Church
Brush Creek
Catholic marriage
Shackles (enslavement)
Baptismal font
Freedom
Augustine's mother, fearing her family would be sold to new slaveholders, flees with her family across the Mississippi River to Quincy, Illinois.
Images
Missouri, a slave state
Illinois, a free state
Chains of slavery
Dove, bird of freedom (the hope of the Holy Spirit)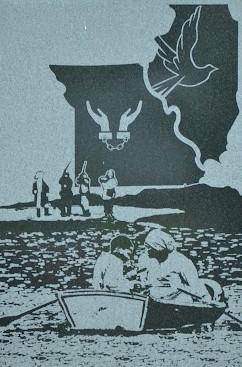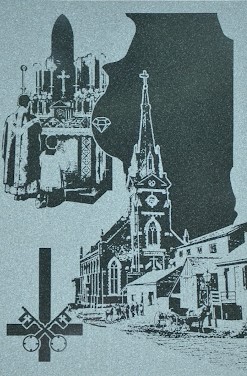 Catholic Foundation
While attending St. Peter School under the tutelage of Reverend Peter McGirr, pastor of St. Peter's Church, young Gus served daily Mass. He was eventually called to the priesthood.
Images
Illinois, with its destination, Quincy, nicknamed Gem City

The Cross of St. Peter (inverted cross with keys, associated with the martyrdom of Peter the Apostle)
Seminary
When not accepted into U.S. seminaries, Augustine attended Rome's Pontifical Urban University, which trains priests to serve as missionaries, where he was ordained to the priesthood.
Images
Italy

Archbasilica of St. John Lateran, where Father Tolton was ordained

Father Tolton in his biretta, a traditional cap of Roman Catholic clergy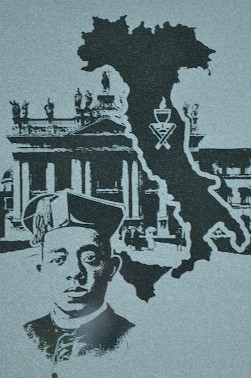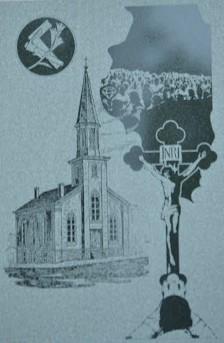 First Priestly Assignment
Expecting to serve in an African mission, Father Tolton studied its regional cultures and languages, but was directed to return to his home diocese and made pastor of Quincy's black parish, St. Joseph's.
Images
Quincy, Illinois
St. Joseph Church
Symbol of St. Joseph
Father Tolton consecrates the host with his congregation
Chicago
Pastoring a successful parish in Quincy with a diverse array of worshipers, Father Tolton met resistance on several fronts. Reassigned to Chicago, he led the development of St. Monica's Church as a black "national parish church" on Chicago's South Side. His devout demeanor and accomplishments earned him national attention within the Catholic hierarchy.
Images
Illinois with Father Tolton's trek to Chicago
Pastor of St. Monica's
St. Monica, patron saint of patience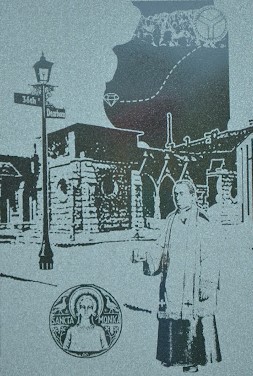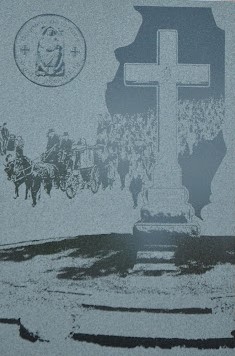 Untimely death
Plagued by "spells of illness", Father Tolton collapsed on a Chicago sidewalk during the 1897 heat wave. He died the next day at the age of 43.
After a funeral which included 100 priests, Father Tolton was buried in Quincy's St. Peter Cemetery.
Images
Illinois embedded with Father Tolton's funeral procession
Father Tolton's headstone in St. Peter's Cemetery
Road to Sainthood
In 2019, Pope Francis declared Father Tolton "Venerable", the second step of four to becoming a saint in the Catholic Church (Servant of God, Venerable Servant of God, Blessed, Saint).
Images
Communion of Saints, the spiritual union of all members of the Catholic Church, living and dead
A priest for all people throughout the world
Venerable Father Tolton awaiting beatification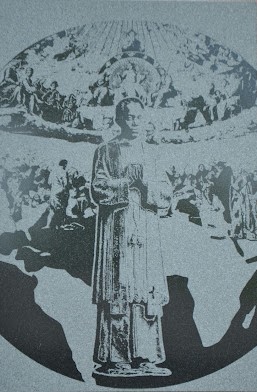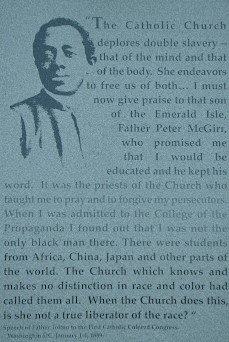 In his own words
In 1889, the first meeting of the Colored Catholic Congress (and revived in 1987 as the National Black Catholic Congress) was held in Washington, D.C., where Father Tolton addressed those gathered and celebrated Mass.
Image
An excerpt from Father Tolton's address to the Colored Catholic Congress